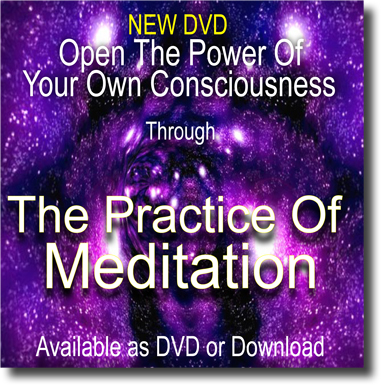 This new DVD covers the basics of meditation practice,
Chakras to deeper practices for those who wish to either deepen their practice or renew their practice for deeper union.
The practice of meditation assists with many things including
*Releasing stress
*Improves health
*Clarity of mind and focus
*Keeps you calm
*Gives clear awareness
*Reduces High blood pressure
Eastern philosophies have recognized the health benefits of meditation for thousands of years. Meditation is now widely practiced in the West and is practiced by people of all religions and is now used by many business people who wish to be more focused.

People also practice meditation to help treat a wide range of physical and mental problems, including addictive behaviors, such as drug, nicotine, and alcohol use, anxiety, stress, and depression.

A report from the National Institutes of Health (NIH) recommends meditation as one of the first treatments for high blood pressure.
People also use meditation to relieve anxieties from long-term (chronic) conditions such as HIV and cancer.
"I have studied and practiced meditation for over 20 years and this new DVD will bring one to the practice, with renewed passion and focus. So many things can be forgotten that are vital to deeply going within and are covered in this beautiful DVD. There are some simple techniques that many of us forget, that help get one into a state of love and gratitude and that is so important to open ones heart."
J E from San Diego
If you would like this video sent to you as a physical DVD, Click Here.
Add to cart button means you are directly buying from us with our secure shopping cart and you can buy more than one item at a time.





You have 2 choices for Payment. 1st choice is Pay Pal and 2nd choice is through our own secure shopping cart. With PayPal you can only purchase one product at a time however with our own secure shopping cart you can purchase as many as you like and keep adding to cart as you browse our Light Filled Catalog of products. This button below is for PayPal only You can only buy one product at a time using the PayPal button